The Guardian has a story about Blockbusters: how Rutherford Chang became the second best Tetris player in the world. Chang is an artist who has been playing Tetris over and over and filming it. His hundreds of thousands of games can be viewed on YouTube here.
How is this art? I suspect it is in the way he plays with repetition. Another project, Alphabetized Newspaper, takes all the words in stories on the cover of The New York Times and rearranges them in alphabetical order created a sort of sorted word list. (Click image and explore.)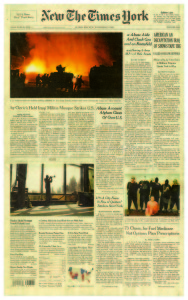 He also did this with video of NBC nightly news, which produces a bizarre effect. Imagine all the very short clips of people saying "and" in a row.
I am struck by how he has humanly recreated what an algorithm could do.