Friday, December 14th, 2012
In Dublin I heard DAH student Maura McDonnell present on Visual Music (her blog), which is her PdD research area. Visual Music is one term among many of experiments in light and sound and her blog is a nice collection of resources on this new media form.
From her blog I learned that there is a also a Center for Visual Music that has documentation and an online store.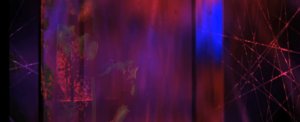 Maura's own work can be seen online, see Silk Chroma. The image above is taken from the Vimeo video.