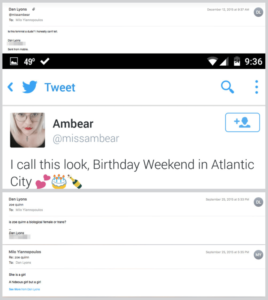 Screen of emails from Dan Lyons
Buzzfeed News has an article on Here's How Breitbart and Milo Smuggled Nazi and White Nationalist Ideas Into The Mainstream. The article in based on a cache of internal Breitbart emails and mostly deals with what Milo Yiannopoulos was up to.
From this motley chorus of suburban parents, journalists, tech leaders, and conservative intellectuals, Yiannopoulos's function within Breitbart and his value to Bannon becomes clear. He was a powerful magnet, able to attract the cultural resentment of an enormously diverse coalition and process it into an urgent narrative about the way liberals imperiled America. It was no wonder Bannon wanted to groom Yiannopoulos for media infamy: The bigger the magnet got, the more ammunition it attracted.
Part of the story also deals with some "liberal" journalists who apparently were emailing Milo like Dan Lyons. It just get more and more sordid.
Many of those who wrote Milo seem to be disgruntled people who feel oppressed by the "political correctness" of their situation, whether in a tech company or entertainment business. They email Milo to vent or pass tips or just get sympathy.