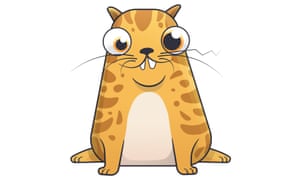 One of the oddest Ethereum projects in operation, CryptoKitties is a three-way cross between Tamagotchis, Beanie Babies and animal husbandry. Users can buy, sell and breed the eponymous cats, with traits inherited down the generations.
The Guardian has a nice story on Missed the bitcoin boom? Five more baffling cryptocurrencies to blow your savings on. The article talks about CryptoKitties, a form of collectible pet (kitty) game that is built on blockchain technology. If you invest you get a kitty or two and then you can breed them to evolve new kitties. The kitties can then be sold as collectibles to others to breed. Apparently 11% of Traffic on the Ethereum Blockchain Is Being Used to Breed Digital Cats (CryptoKitties). If you missed investing in bitcoin, now is the chance to buy a kitty or two.
The question is whether this is gambling or a game?