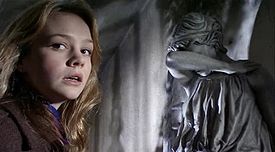 I recently finished listening to James Gleick's Time Travel: A History. Gleick wrote the best book on The Information there is and this book is almost as good. He weaves the science together with the fictions about time travel starting with H.G. Wells' The Time Machine and using that to then look at how science started treating time as a dimension that they allowed us to seriously talk about traveling on that dimension. It is historical ontology done really well.
Near the end he talks about the brilliant Doctor Who episode  Blink (Doctor Who) with Carey Mulligan where she has a conversation with Doctor Who (Tennant) mediated by Easter Eggs on DVDs and transcribed onto paper. That transcription she hands to the Doctor at the end of the episode so he can put the video onto the DVDs in the past for her to talk to. It is brilliant.
Part of what I like about Gleick is he shows the connections between science and how we imagine ideas like time through literature and film. He ends by suggesting that we have time travel in our stories and imagination.
It might be fair to say that all we perceive is change—that any sense of stasis is a constructed illusion. Every moment alters what came before. We reach across layers of time for the memories of our memories.

"Live in the now," certain sages advise. They mean: focus; immerse yourself in your sensory experience; bask in the incoming sunshine, without the shadows of regret or expectation. But why should we toss away our hard-won insight into time's possibilities and paradoxes? We lose ourselves that way. (Gleick, James. Time Travel, p. 308)