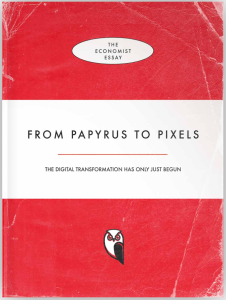 The Economist has a nice essay on The future of the book. (Thanks to Lynne for sending this along.) The essay has three interfaces:
A listening interface
A remediated book interface where you can flip pages
A scrolling interface
As much as we have moved beyond skeuomorphic interfaces that carry over design cues from older objects, the book interface is actually attractive. It suits the topic, which is captured in the title of the essay, "From Papyrus to Pixels: The Digital Transformation Has Only Just Begun."
The content of the essay looks at how books have been remediated over time (from scroll to print) and then discusses the current shifts to ebooks. It points out that the ebook market is not like the digital music market. People still like print books and they don't like to pick them apart like they do albums. The essay is particularly interesting on the self-publishing phenomenon and how authors are bypassing publishers and stores by publishing through Amazon.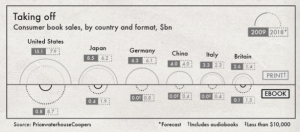 The last chapter talks about audio books, one of the formats of the essay itself, and other formats (like treadmill forms that flash words at speed). This is where they get to the "transformation that has only just begun."