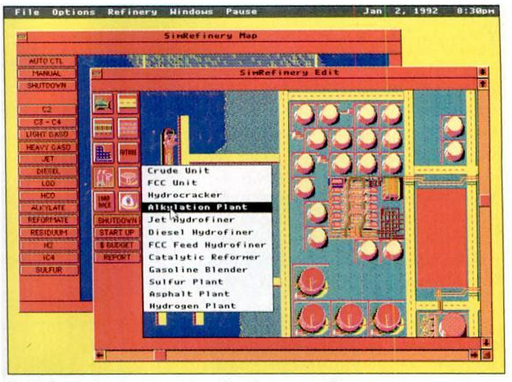 SimRefinery was the first simulation developed by a Maxis spin-off company called Maxis Business Simulations (MBS). The simulation was for Chevron and was developed using the development tools Maxis had developed for their games like SimCity. Phil Salvador tells a wonderful story about MBS and SimRefinery in a thoroughly research essay When SimCity got serious: the story of Maxis Business Simulations and SimRefinery. Take some time out and read it.
Part of what is interesting in the essay is how Salvador documents the different views about what such simulations were good for. SimRefinery was not a accurate simulation that would cover the complexity of the chemical engineering of a refinery; so what was it good for. Chevron apparently wanted something to help the staff who weren't engineers to understand some of the connectiveness of a refinery – how problems in one area could impact others. Will Wright, the genius behind Maxis, didn't think serious simulations were possible or something they wanted to do. He saw SimCity as a caricature that was fun. At best it might give people a "mental model" of the issues around city management. It was for that reason that MBS was a spin-off designed to contract with businesses that felt serious simulations were feasible and useful.
I learned about the Salvador article from a Ars Technica story about SimRefinery and how A lost Maxis "Sim" game has been discovered by an Ars reader [Updated]. The story talks about how someone found and uploaded to the Internet Archive a prototype of SimRefinery only to later take in back down so it is no longer available. In the meantime Phil Salvador recorded a Twitch stream of checking out the game so you can get a sense of how it worked.