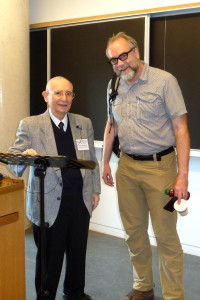 Robert Jay Glickman and Geoffrey Rockwell
Last week I participated in the Digital Pedagogy Institute that was organized by the University of Toronto Scarborough, Brock University and Ryerson University. I kept my Conference Report here.
This Institute focused not only technology in learning but also on important issues around the ethics of different learning models that involve technology. Ways of using technology to get active participation rather than just broadcasting video came up. Ways of thinking about students in collaborative projects came up – we need to get beyond the apprentice model and think of them as "citizen scholars."
I gave a talk on "Teaching Analytics After Snowden" in which I argued that:
It is clear after Snowden that governments and industry are using surveillance and analytics on a massive scale that affects us all. The humanities should bother as this is now about democratic participation!
(Big) data analytics is an interpretative art. The interpretative disciplines (humanities, certain social sciences, and certain arts) should be interested and should engage with other disciplines to teach data analytics across the curriculum.
Data analytics can be taught in a number of ways from teaching programming to the teaching of tools, to teaching people to recognize and use analytics around us. I also argued we should learn to read the literature of analytics like the Snowden-released PowerPoint slides.
The danger is surveillance fatigue. People give up when they think surveillance is beyond their control or that they have nothing to fear. It is not a new problem in teaching and learning, but the heart of the matter is giving students and colleagues a sense that they can make a difference.
I have put up some of the links in my Conference Report.
One of the unexpected surprises of the conference was that I got to meet Robert Jay Glickman. Glickman developed PRORA, a mainframe concording tool) in the 1960s. He is one of Canada's pioneers! He is still working on technology and gave a great talk about designing online courses from his experience teaching Spanish online.