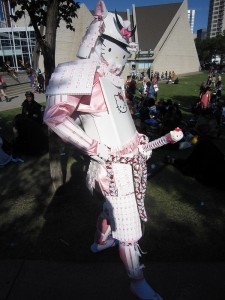 Yesterday I went to the Animethon. This is a convention about Japanese anime, manga, games, cosplay and related culture that takes place every year in Edmonton on the campus of Grant MacEwan City Centre Campus. The three day event attracts thousands (probably around 6000). A sgnificant portion of participants are dressed up for cosplay. You can see my photographs on Flickr in my Animethon 2013 set. The best of the cosplayers I saw was the Hello Kitty samurai knight in the photo above.
It is tempting to compare this Japanese pop culture event in Canada to ones I saw in Japan, but I haven't seen enough on either side of the Pacific to be sure. What is clear to me is that Japanese pop culture is big here in Edmonton and not just among youth. While there were a lot of kids (some with parents), there were also older fans (like me.) I loved the inventive costumes and there seemed to be almost as many men cosplayers as women. Many took real pride in their costumes.
Some of the panels I went to included one on the Touhou Project and one on ball-jointed dolls (BJD). There was a cosplay contest with some fabulous costumes. I also spent time in the exhibit hall were I picked up a WonderSwan and some games, including a copy of Rez. Now I need a PS2 to play it on!
The ball-jointed doll session was the most interesting as it was a community I didn't know much about. There is apparently a strong BJD club in Edmonton and they meet to trade and teach each other. Many of the participants had brought their dolls (see my photos) and they seemed to be mostly mature women, though there were some men there too with dolls. I can't help wondering about the differences between the doll culture in Japan and here. Here it seemed to be a hobby in the tradition of collecting dolls. In Japan there seemed to be a subset of male owners for whom these dolls are more than collectibles, but that may be a projection.