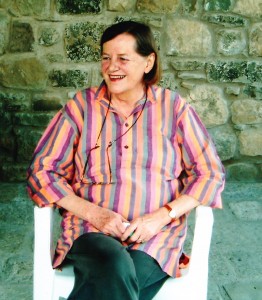 They also serve who only stand and waite.
Beloved mother, wife and friend Cynthia (Cinny) Ide Rockwell passed away on Sunday, April 28th, 2013 at home in Rome, Italy. Born in 1936 in Hollywood Hospital she went to The Putney School in Vermont where she met her future husband and then to Cornell University. She and Peter Barstow Rockwell were married in 1958 in New London Connecticut. In 1961 she, Peter and her two year-old son Geoffrey went to Italy for what was going to be a 6-month stay and never left, moving from Liguria to Rome in 1962 where they lived in series of apartments before settling in Monteverde.
In 1974 Cinny started working part-time for the International Centre for the Study of the Preservation and Restoration of Cultural Property (ICCROM) in Rome going permanent in 1980. Over the years she was responsible for introducing the first word-processor to ICCROM and setting up the publications unit with Mónica García Robles. Together they produced newsletters, conference proceedings, training materials and books in multiple languages. While she retired in 1997 she continued as a consultant for ICCROM for another three years. Working for ICCROM she developed a specialization in translating works about restoration including Cesare Brandi's important Theory of Restoration, published by Nardini Editore in 2005. Her last major work for ICCROM was a co-edited volume Protecting Cultural Heritage in Times of Conflict which gathered contributions from the "International Course on First Aid to Cultural Heritage in Times of Conflict."
In her free time Cinny was an avid and competitive bridge player training her children and husband to make up a foursome. She loved large difficult jigsaw puzzles, solitaire and Tetris on the computer, reading mysteries and playing Scott Joplin on the piano. All her life she collected stamps taking advantage of the international correspondence of family and ICCROM. With her family she traveled the world, for many years in a green VW camping bus. In her last couple of years she traveled around the world to Japan, to Dublin, to San Francisco and to her grandaughter's college graduation in Philadelphia.
The Lord is my shepherd, I lack nothing.
He makes me lie down in green pastures,
Cinny passed away peacefully at some point during an afternoon nap in her favorite chair where she would entertain friends. This was after a short game with cancer which she lost gracefully knowing she had had a rich life. In the long nights before passing she was consoled by reciting Psalm 23, and Milton's sonnet "On His Blindness". When she passed she was 76 years old and is survived by her husband Peter; children Geoffrey, Thomas, John and Mary; and grandchildren Peter, Alethea, Mateo and Lucia.
On May 2nd a funeral was held for Cinny at St. Paul's Within the Walls officiated by Rev. Austin Rios and attended by her many friends. She will be interned at the Cimitero Acattolico di Roma as Keats apparently needs an editor and Gramsci needs a translator.
The life she shared among us will never die, even though her body is no more.
And that is why we cry out Alleluia today. (from the homily of Rev. Riosn (now gone))
See also the ICCROM Obituary (now gone, see Wayback Machine version.)