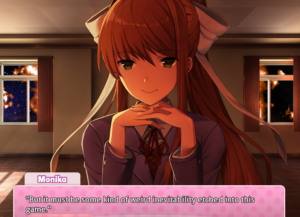 The Literature Club is full of cute girls! Will you write the way into their heart?
Dr. Ensslin gave a great short survey of digital fiction includ the Doki Doki Literature Club! (DDLC) at the Dyscorpia symposium. DDLC is a visual novel created in Ren'Py by Team Salvato that plays with the genre. As you play the game, which starts as a fairly typical dating game, it first turns into a horror game and then begins to get hacked by one of the characters who wants your attention. The character, it turns out, has both encouraged some of the other girls (in the Literature Club) to commit suicide, but they edits them out of the game itself. At the end of the game she has a lengthy face-to-face with you breaking the fourth wall of the screen.
Like most visual novels, it can be excruciating advancing through lots of text to get to the point where things change, but eventually you will notice glitches which makes things more interesting. I found myself paying attention to the text more as the glitches drew attention to the script. (The script itself is even mentioned in the game.)
DDLC initially mimics the Japanese visual novel genre, down to the graphics, but eventually the script veers off. It was well received in game circles winning a number of prizes.