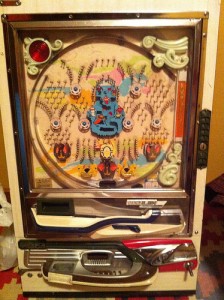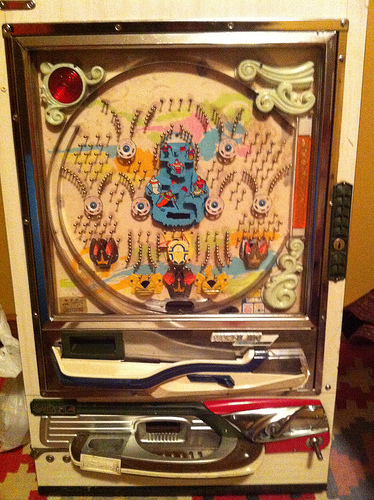 This weekend I bought the "antique" pachinko machine above. (To learn about pachinko see this clip from a Wim Wenders documentary Tokyo-Ga.) It looks similar to the Monkeys and Elephants Nishijin type B machine from 1976 from this collection on Flickr. My Japanese collaborator Dr. Keiji Amano tells me it was placed in the Gomangoku pachinko parlor in Shizuoka in 1977 based on the license stickers in the lower left of the playing field.
There are a number of great resources on the web for people who like to collect and restore older machines. Here are some that friends have pointed me to:
A question that people have asked me is how a 1970s pachinko machine ended up in an Edmonton antique mall (which is actually more like a flea market)? James King has a good post, Pachinkos in America: Where Are They? on research he has done using analytics (on Pachinko Planet) which suggests it may be been brought over by a serviceman or by a company that imported used ones to the US. Here is part of what he says,
Japanese pachinko parlors for decades only allowed machines to remain in service for about a year before they had to be removed and disposed. This led to huge numbers of used machines available in Japan, and most were simply destroyed. However, it was not unusual for American servicemen to send or bring them back to the states as souvenirs. The numbers that trickled in spread out from our major military installations, but in the 1950's and 1960's these numbers were small, somewhere in the thousands. Few of these pachinkos have survived today.

In the early 1970's a few enterprising gentlemen got a good idea for a use for all of those piles of expired pachinkos. They formed a company called Target Abroad LTD, and started buying them up by the thousands and filling shipping crates with them. They then shipped these crates by the thousands to America, and sold them through major chain stores such as Woolworth, K-Mart, and even Sears. Several other smaller companies quickly formed and opened pachinko specialty stores across the country. Two of the most successful were Pachinko Palace and The Pachinko Factory, and many vintage pachinkos in America today still bear their stickers. Literally millions were sold between 1972 and 1976, but sales began to plummet when video games were invented and then mass- produced. By 1978 nearly all imports of pachinkos to America had ended, and the retailers sold off their inventory and closed their doors forever.
It is possible that collecting and restoring vintage machines is more popular in the USA than in Japan. Dr. Amano tells me that there is little in Japanese to match the restoration manuals and videos available in English. Pachinko may have a charm for people in North America that it doesn't have in Japan. To us it is an exotic pinball-like game with lovely designs (especially the vintage ones before they got video screens) from the mysterious orient. For the Japanese it is a reminder of noisy smoky pachinko parlours where older men gamble endlessly alone. Given how little Japanese research there is into pachinko (considering the extraordinary amount of money spent on it) it is likely that to many Japanese it is an embarrassment which they wouldn't want to collect.